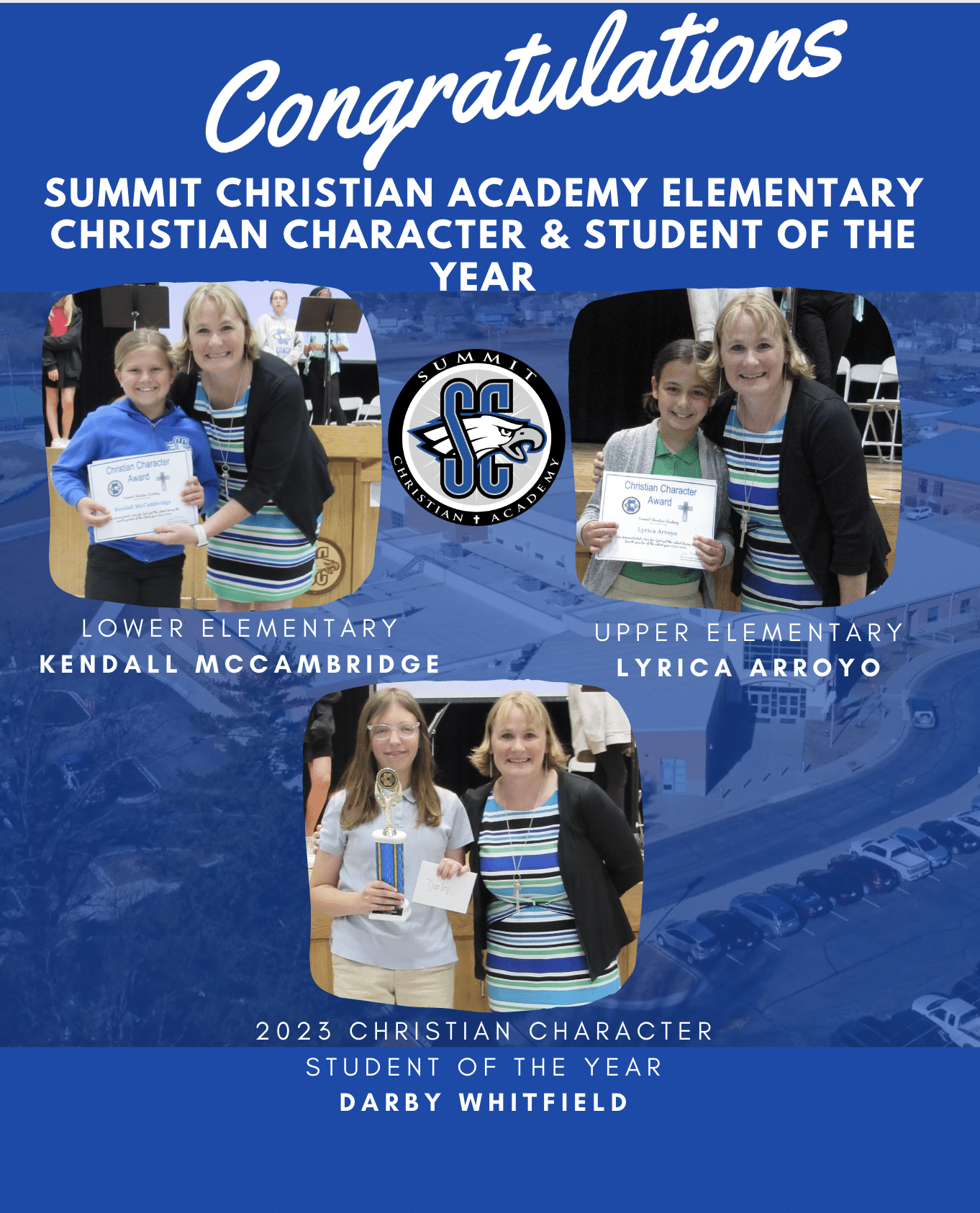 (Lee's Summit, MO) – Summit Christian Academy (SCA) is pleased to recognize students who consistently exhibit exceptional Christian character through the Christian Character Award program. The purpose of this award is to encourage students to pursue their potential toward attaining the highest level of personal and academic development as well as Christian character. The achievement of Christian Character at SCA is one of the most prestigious recognitions within the school.
SCA Elementary Christian Character recipients for the fourth quarter are third grade student Kendall McCambridge, daughter of Casey & Amy McCambridge, and fifth grade student Lyrica Arroyo, daughter of Dr. Michael & Bethany Arroyo.
SCA announced fifth grade student Darby Whitfield, daughter of Colby & Elaine Whitfield, as the 2023 SCA Elementary Christian Character Student of the Year.
"Darby continuously displays Christian character to everyone around her," shared SCA Upper Elementary Principal Mrs. Julie Madsen. "She shines her God-given light by always having a positive and respectful attitude toward teachers and her peers. She is a positive role model in class and is always willing to help others in need. She consistently shows how important her academics are to her by putting forth full effort in all subject areas. Her actions reflect what God calls us to be: loving, joyful, peaceful, patient, kind, generous, and faithful."
Summit Christian Academy (SCA) is an independent, nondenominational Christian school serving over 1200 preschool-12th grade students from over 195 area churches with a college preparatory Christian education. Summit Christian Academy is fully accredited by the Association of Christian Schools International and the Cognia and provides a college-preparatory program, along with a full range of extracurricular activities. The staff and faculty at Summit Christian Academy strive to inspire students to discover and achieve their God-given potential.
###
Want to check out Summit Christian Academy firsthand?
Schedule a personalized look at our facility.
Sign up to Receive updates and event information from SCA.