At Summit Christian Academy, we believe that every child is created by God for a purpose. Our desire is to partner with you to inspire your children to reach their God-given potential. We understand that you are entrusting us with your most precious gift, and we do not take that lightly. 
The school day for our Early Education students is filled with opportunities for our littlest eagles to learn and grow through hands-on activities, learning stations, interaction with SCA faculty and staff, Bible stories, library time, singing, Physical Education, and play. Our goal is for our Early Education students to grow socially, emotionally, physically and academically, to meet their God-given potential, all while developing a life-long love of learning. 
Charissa Sanders
Early Education & Lower Elementary Principal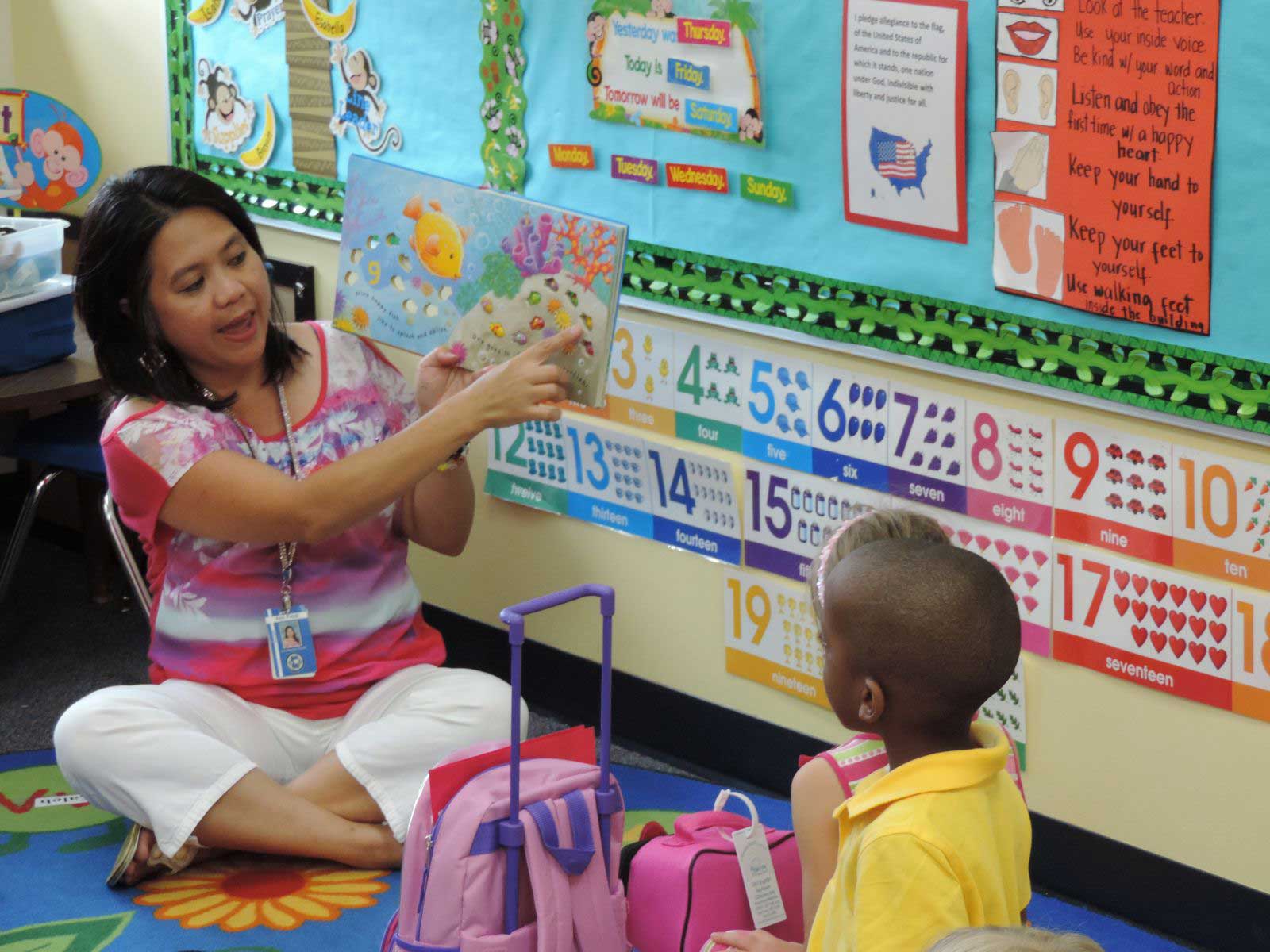 Preschool Classes
Parents may choose a 2-, 3-, or 5-day program. Preschool classes are available 8:15 a.m. - 11:15 a.m. or 8:15 a.m. - 2:15 p.m. for children who are at least 2½ years of age by July 31 and are fully potty trained. Early release time for Early Education is 11:15 a.m. For more information on the preschool program, visit Early Education Curriculum.
Prekindergarten Classes
Parents may choose a 3- or 5-day program. Prekindergarten classes are available 8:15 a.m. - 11:15 a.m. or 8:15 a.m. - 2:15 p.m. for children who will be at least 4 years of age by July 31. Early release is 11:15 a.m. For more information on the prekindergarten program, please visit Early Education Curriculum.
School Questions
Does the school uniform dress code apply to early education students?
No. Preschool and prekindergarten students should dress in clothing that is comfortable, casual, washable and suitable for independent restroom use. We request that no large fictional characters be worn. Tennis shoes or other supportive shoes with socks need to be worn. Flip flops/sandals are not good for active play.
Do we need school supplies?
Yes. We ask that you send them to school with your child on their first day. SCA will distribute a school supply list for preschool and prekindergarten families.
How do I prepare my child for those first-day jitters?
Talk about school with enthusiasm. Share some of your "first day" experiences and build excitement by letting them join in the preparation of packing their school supplies or picking out a new outfit. Read The Little Engine That Could and encourage your child to say, "I think I can!" Above all, pray with your child and ask God to bless them and go before them as they move into this new phase of childhood. Attend as many Early Education back-to-school activities as possible like Popsicles on the Playground and Open House. 
Do you have a recommended reading list for early education students?
Activities Questions
Can my kid play sports there?
The Summit Christian Academy Early Education program does not offer sports. We do have activities for the Early Education students. They participate in spring and fall programs where they have an opportunity to perform for family and friends. Early Education students will experience field trips to the Kansas City Zoo and/or Deanna Rose Farmstead as well as the Pumpkin Patch. 
Our ultimate goal is to help Early Education students discover the world that God has made and learn about His plans for their life as they develop to their full potential. We want to provide as many opportunities for children to practice fine motor skills and the social skills necessary to succeed at school in a Christian environment.  
What kind of sports do you have?
In Early Education, we do not offer sports. Starting in 5th grade we offer sports for SCA students.
At the Early Education ages art is incorporated into the SCA Early Education curriculum. Students will do painting, drawing, coloring, and utilization of manipulatives to finesse their eye-hand coordination and knowledge of shapes and colors.
Pricing Questions
How much does it cost to attend?
What payment forms do you accept?
Summit Christian Academy partners with FACTS tuition management for all billing. Through FACTS you can pay through credit card, cash, and/or check.
At the Early Education level, SCA does not offer discounts. We do offer a 50% discount for Covenant Church Pastors that meet qualifications (pastor qualifications/application).
Want to check out Summit Christian Academy firsthand?
Schedule a personalized look at our facility.
Sign up to Receive updates and event information from SCA.