Camp Eagle Summit, Jr. is for children who are 2½ by July 31 and potty-trained through those entering kindergarten in the fall. Camp Eagle Summit, Jr. maintains a 10:1 student-to-teacher ratio.
Summit Christian Academy serves Christian families by partnering with parents and the church. At least one parent must have made a profession of faith in Christ and agree with our Foundational Documents. A pastor reference will be requested as part of the enrollment process.
SCA utilizes faculty and staff to facilitate the summer camp  program. Program Director is Early Education Teacher Mary Kate Berck. Miss Berck has a Bachelor's degree in General Studies with an emphasis in special education.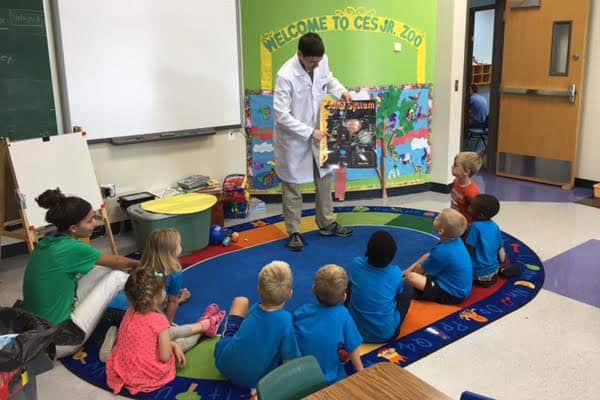 Date and Hours
Camp is daily from 7 a.m. to 5 p.m., beginning the Monday following the last day of school and ending the Friday, a full week prior to the start of school. There is no camp on Memorial Day or the Fourth of July if they fall during the week.
Camp will be held in the early education classrooms at Summit Christian Academy located at 1500 SW Jefferson, with all activities taking place on the school campus. Each week, campers will learn a Bible story and participate in fun activities that revolve around the author of the week and our weekly activities listed below. Academics are incorporated in the CES Jr. program.
Musical Monday (Music)
Water Wednesday 
Fitness & Fun Thursday
Guest Speakers weekly

Fees & Billing Policies
Enrollment/Activity Fee (includes one camp shirt): $50 nonrefundable fee per child ($75 after April 15)
Camp Eagle Summit, Jr. Fees: $195/week for full-day camp or $50/day (7 a.m.-5 p.m.)
Lunch: Campers may bring a sack lunch or order a sack lunch (entree/two sides) for $3.50.
Billing Policy: Weekly camp fees and lunch charges will be billed through your FACTS SIS incidental account. After you enroll, the finance office will send you an email confirming the amount owed for each week and instructions on how to set up automatic payments (ACH) in FACTS SIS. Fees are due and will be deducted via ACH on Monday of each week your camper attends. (We highly recommend ACH. If you choose not to set up ACH, payment must be made before dropping your camper off each week.) Billing notices are sent via email from FACTS SIS. 
Families are responsible for payment of their selected weeks/days regardless of child's attendance. Daily staffing is based on the number of students who have made a reservation. Changes to selected weeks/days must be preapproved two weeks in advance by the Director. No exceptions will be made. Absences due to illness are not refundable and are not transferable to a different day.
Enrollment
Use the link below to enroll in CES, Jr.
Space is limited. Register early to reserve your spot!
Want to check out Summit Christian Academy firsthand?
Schedule a personalized look at our facility.
Sign up to Receive updates and event information from SCA.