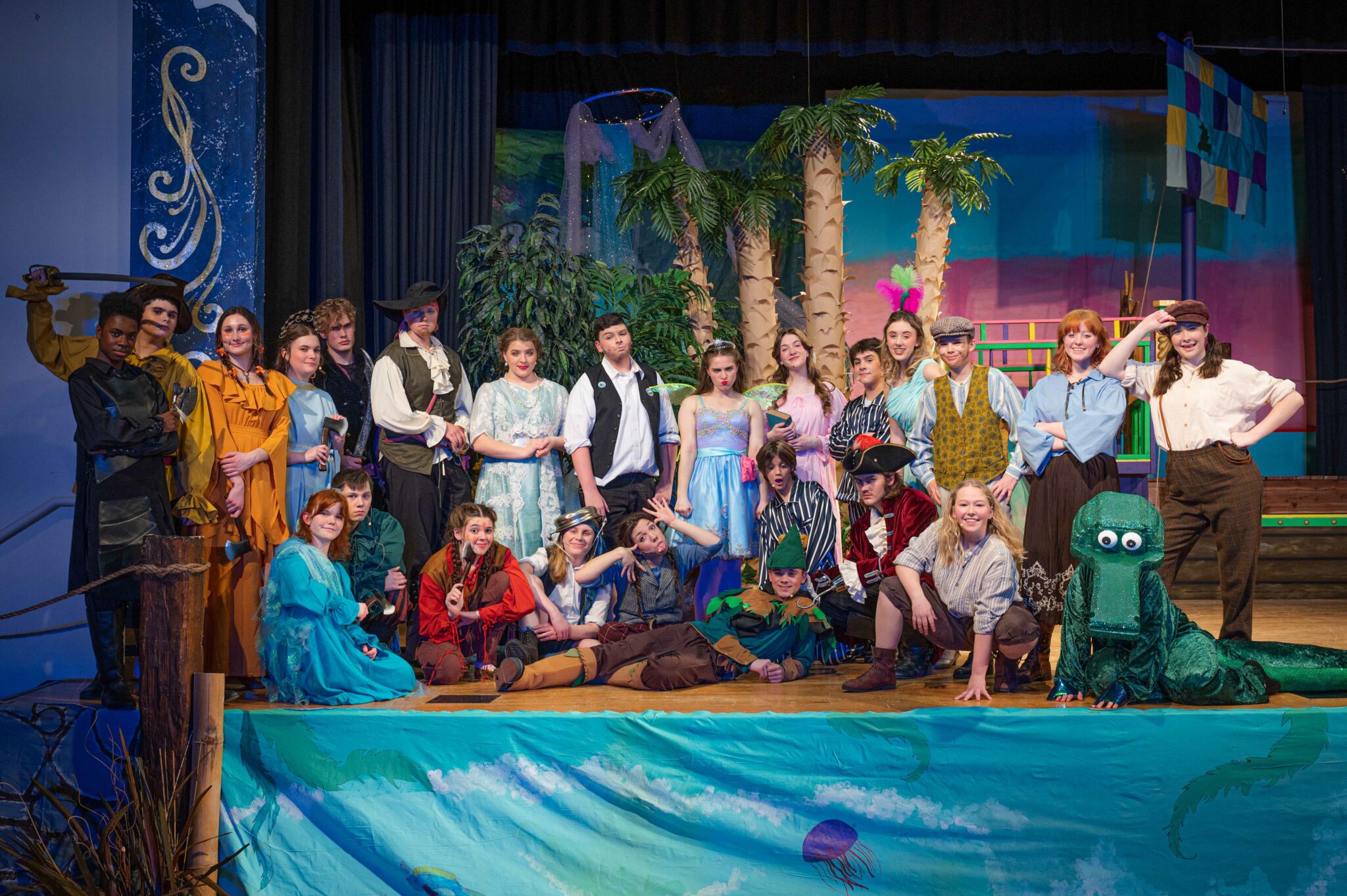 Summit Christian Academy Theatre Departments presents Peter Pan
The Summit Christian Academy Theatre Department recently presented Peter Pan with three sold out performances February 23, 24, & 25. What a wonderful time everyone had traveling to Neverland for this fun performance! 
About SCA Theatre
The mission of the SCA Theatre Department is to inspire students to achieve their God-given potential in theatre - including both acting and technical expertise - through excellent productions and classes in a professional and challenging environment. Secondary students have the opportunity to take semester-long theatre classes as part of their elective classes.
In addition to theatre classes, SCA Theatre has three extracurricular productions each year in which students may participate, either as actors or as part of the student-led technical crew. Each year there is one high school play, one all-secondary production, and one junior high play. Every other year, the all-secondary production is a musical in collaboration with the music department.
Each year, the most advanced students present One Act Night, a collection of student-directed (and often student-written) short plays. In 2012, the Theatre and Worship classes united to write the book, music, and lyrics for Shelter(ed): A Student-Written Musical. In 2020, SCA students adapted Shakespeare's The Tempest into a musical, writing 15 original songs.
SCA Theatre is a member of the International Thespian Society and the KC Cappies, and has participated in the Missouri State Improv Intensive.
Over the years, SCA has produced a wide variety of comedies, dramas, and musicals.
In the past, SCA has produced a wide variety of comedies, dramas, and musicals including
The Importance of Being Earnest
A Simpler Time 
Mary Poppins
Shakespeare's The Tempest 
Korczak's Children
The Potting Shed
Pride & Prejudice 
The Sound of Music
Sherlock Holmes
First Baker Street Irregular 
Rehearsal for Murder
The God Committee
Shakespeare on the Green 
Cyrano de BurgerShack
These Shining Lives 
It's a Wonderful Life
Much Ado About Nothing
The Coarse Acting Show 
Meet Me in St. Louis
Harvey
Acts of God
Shakespeare's The Comedy of Errors
Fantastic Mr. Fox 
Hello, Dolly!
God's Favorite
Korczak's Children
12 Angry Jurors
M*A*S*H 
Rodgers and Hammerstein's Cinderella
Sabrina Fair 
Peter Pan & Wendy
The Dining Room
Pride Prejudice
My Fair Lady
Towards Zero 
Diary of Anne Frank
Shakespeare's Much Ado About Nothing 
The Foreigner
The Sound of Music
An Ideal Husband
God's Favorite 
Anne of Green Gables
The Coarse Acting Show
Want to check out Summit Christian Academy firsthand?
Schedule a personalized look at our facility.
Sign up to Receive updates and event information from SCA.