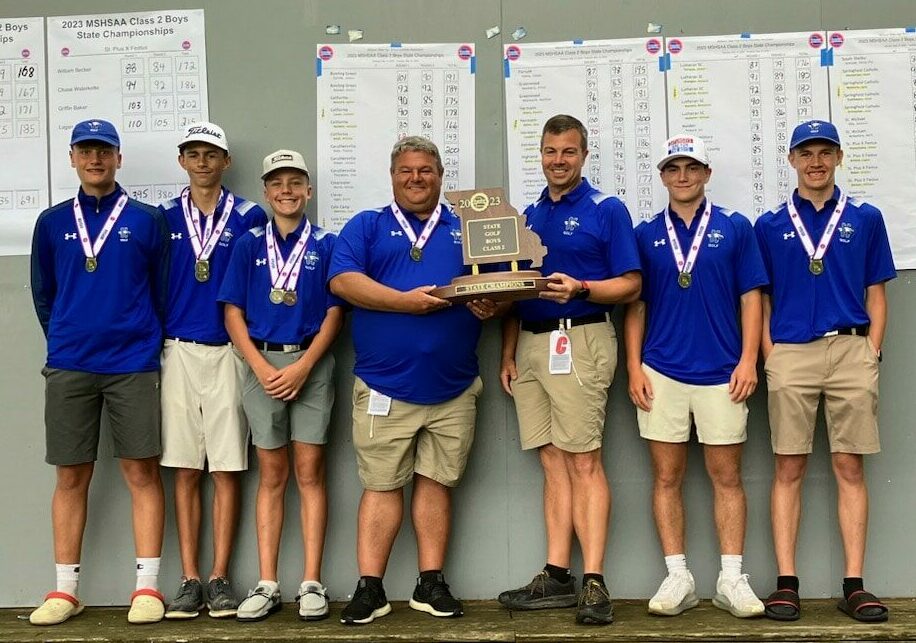 (Lee's Summit, MO) – The Summit Christian Academy (SCA) Eagles varsity boys' golf team finished their postseason run at the state tournament May 15 and 16 at Rivercut Golf Course in Springfield, MO.
The team finished as the Class 2 State Champions with freshman Peyton Smith coming home as the Class 2 State individual champion and fellow teammate freshman Ben Wheeler finishing 3rd. SCA Athletics has earned fifteen state trophies in various sports over the last fifteen years, but this accomplishment marks the first time an SCA team has placed 1st in state competition.
Smith ended the 36-hole tournament at two under par and Wheeler at four over par. The team was completed by returning state qualifiers senior Memphis Hinton and junior Hayden Perry, along with freshman Tristan Aitkens. After two days of competition at Rivercut Golf Course, the team's combined score was 630 with California High School finishing second with a combined score of 662.
"After day one, we were up by nine strokes," shared Varsity Head Coach Gary Breshears. "At breakfast, we talked about the importance of playing for each other, for our school, and for Christ as we entered day two. I couldn't be prouder of how these guys played. They played their hearts out. They played like champs. I knew what kind of team we had before the season started and I told the athletic department 'We're going to hang the first championship banner in the new fieldhouse.' These guys completed that task with a 32 stroke lead over the next team!"
"Coach Breshears and the boys golf team are a group all SCA should be proud of," shared SCA Athletic Director Lance Quessenberry. "We thank God, not for a state championship, but for giving this team the opportunity and the talents to excel and glorify Him. Obviously, these young men took advantage of the opportunity and put on an impressive performance."
Summit Christian Academy (SCA) is an independent, nondenominational Christian school serving over 1200 preschool through high school students. Established in 1989, the school has distinguished itself as a leader in private Christian education in the Midwest region. SCA is located on a 36-acre campus and is a member of the Missouri State High School Activities Association (MSHSAA).
###
Want to check out Summit Christian Academy firsthand?
Schedule a personalized look at our facility.
Sign up to Receive updates and event information from SCA.