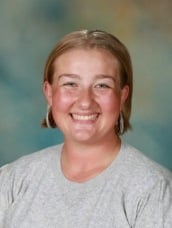 (Lee's Summit) – Summit Christian Academy (SCA) is pleased to announce that senior Emma Miller-Fox took second place in an essay competition for the Veterans of Foreign Wars (VFW) Voice of Democracy scholarship program for Post 5789.
The Voice of Democracy is the VFW's premier scholarship program and nearly 25,000 high school students from across the country compete for more than $2 million in educational scholarships and incentives each year. Students in 9-12 grades compete by writing and recording an audio essay on an annual patriotic theme. The theme for the essay this year was "Why is the Veteran Important?"
Emma and her family are invited to a Patriotic Recognition Ceremony, where she will receive her award and be invited to read her winning entry publicly.
Want to check out Summit Christian Academy firsthand?
Schedule a personalized look at our facility.
Sign up to Receive updates and event information from SCA.