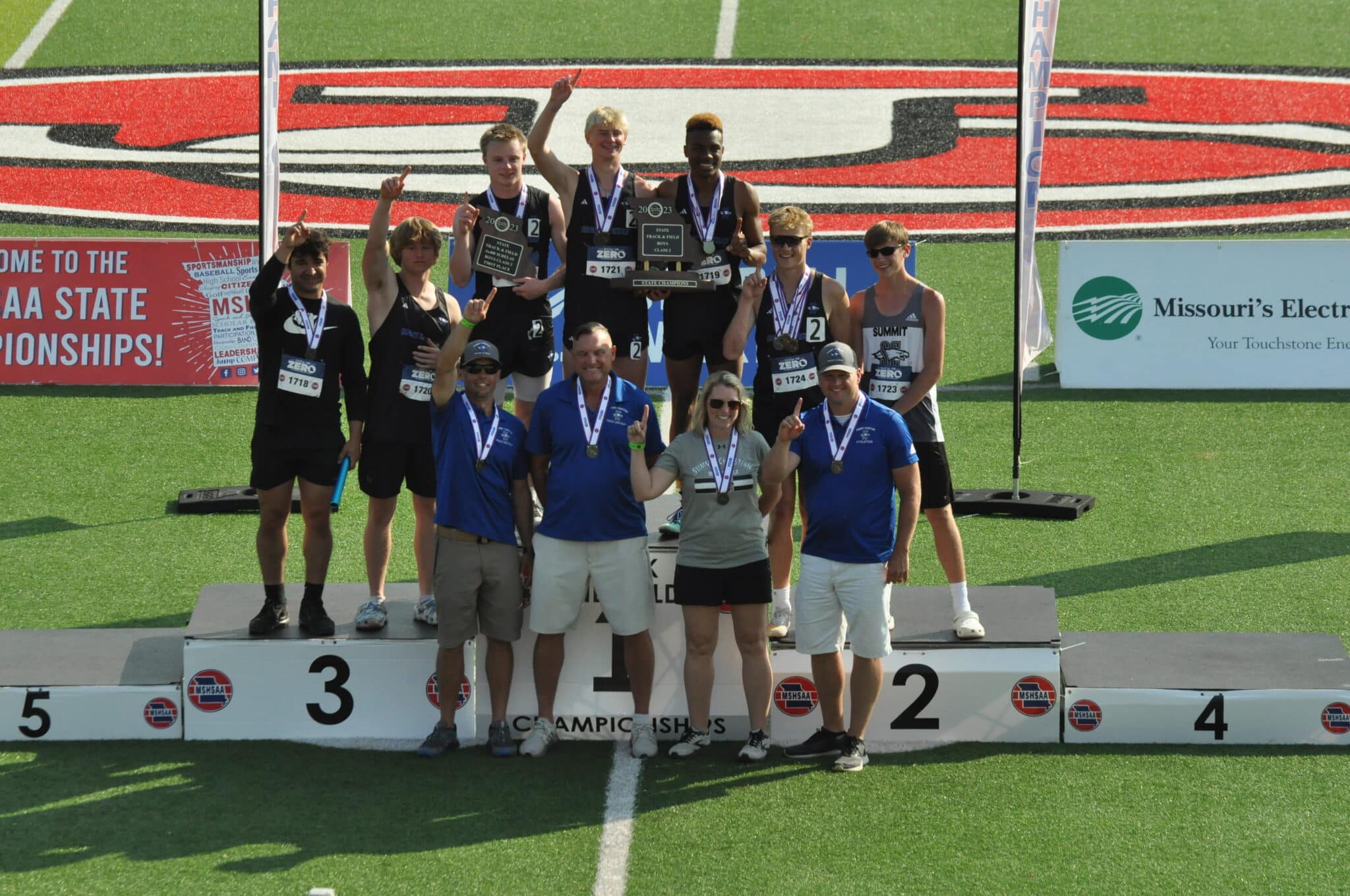 (Lee's Summit, MO) – The Summit Christian Academy (SCA) Eagles varsity boys' track and field team finished their postseason run at the state track and field meet May 19 and 20 at Adkins Stadium in Jefferson City with a Class 2 State Championship win.
The outcome of the meet came down to the final race of the two-day meet with the 4x400-meter relay. The foursome of Marcus Verbrugge, Jake Sutton, Drew Pierce, and Marcus Jones knew going into the race they had to win the event to reach an overall tie with the current leader at that time, Charleston High School. The team dug deep and finished strong with their win leading the Eagles to finish with a state co-championship with Charleston.
SCA junior Marcus Jones was the team leader as the state individual champion in the 200- and 400-meter dashes for the Eagles. He was also the anchor for the 4x200-meter relay team comprised of Marcus Verbrugge, Jake Sutton, Drew Pierce and Marcus Jones which placed second. Other medalists were senior Drew Pierce finishing fifth in the long jump, and sophomore Marcus Verbrugge finishing fifth in the 400-meter dash and eighth in the 800-meter run.
"These boys are such competitors! They carried themselves and competed with honor and dignity - and they won," shared Varsity Head Coach Rick McGregor. "These young men are more than just champions on the track, they are champions in their character and how they live out their lives. They are an inspiration to our whole team and an excellent representation of Summit Christian Academy. They have been fun to watch as they improved this year and the state championship was a culmination of all their hard work and successes."
Summit Christian Academy (SCA) is an independent, nondenominational Christian school serving over 1200 preschool through high school students. Established in 1989, the school has distinguished itself as a leader in private Christian education in the Midwest region. SCA is located on a 36-acre campus and is a member of the Missouri State High School Activities Association (MSHSAA).
###
Want to check out Summit Christian Academy firsthand?
Schedule a personalized look at our facility.
Sign up to Receive updates and event information from SCA.